Luxury For Your Home- Glass Products for Every Room
With the seasons changing outside, you may find yourself inspired to change to the interior spaces of your home. When thinking about redesigning the spaces within your home, one things crosses almost everyone's mind: money. That's why we've put together this guide to help you add elegant touches to every room of your home without a costly renovation or complete design overhaul. By adding these simple glass elements to your home, you can add spectacular, eye-catching designs to your home without breaking the bank.
When refreshing the design of a room in your home, you want to avoid adding anything that will clash with your existing color palette or theme. That's why many opt for glass options as a way to freshen up a space without interrupting the existing color scheme. By adding glass into a space, you can add an elegant element to your design while also inviting more light into the space. You may be surprised to find that glass can be used in virtually every space within your home. Below, we'll tell you exactly how.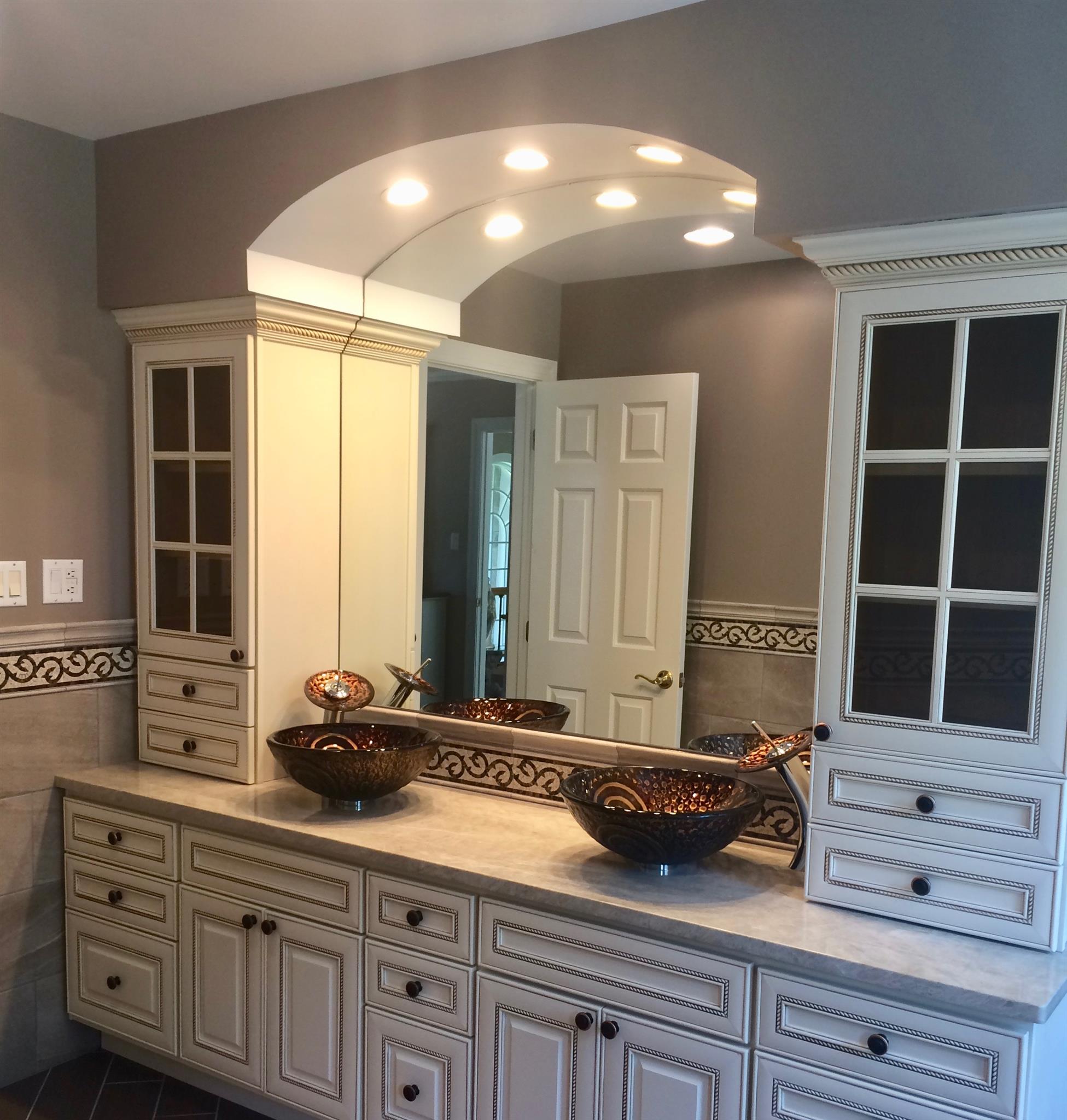 Kitchen
When thinking about updating your space with glass, the kitchen is often the first place that comes to mind. The possibilities are truly endless in this space. Many people find that glass causes a space to feel brighter and cleaner, which is incredibly important in the kitchen as this is where food is prepared.
One of the easiest ways to integrate glass into your kitchen space is with a custom glass tabletop. Oftentimes, a glass tabletop can be fitted over your existing kitchen table. Adding a glass tabletop will brighten up the space and make it feel much more sophisticated than before. Plus, if you've got a really beautiful table underneath the glass, you can keep it protected while still showing it off in your kitchen to all who visit. A glass tabletop is truly a win-win.
Another way to integrate glass into the kitchen is to install a glass backsplash. If you don't have the budget for brand new countertops or a full kitchen redesign, a glass backsplash may be the perfect option for you. Glass backsplashes can come in a plethora of different colors and textures to ensure seamless integration into your existing kitchen design. These unique backsplashes are certainly conversation-starters and can be designed to bring either a classic or modern element into the space. You can even opt for a mirrored glass option to help bring more light and add the appearance of added square footage to a smaller kitchen layout.
If you've got enough cash in your budget for a full kitchen redesign, you may want to opt for a glass countertop option. These glass countertops are easy to care for and offer a sleek element for your kitchen design. With a variety of color options, you can find the glass countertop option that works best for the color scheme of your kitchen space. Plus, you won't have to spend nearly as much money as you would on granite or marble countertops.
Living Room
Another area of your home that can benefit from the introduction of glass is the living room. Oftentimes, we find that our living rooms become "too comfortable." Since the living room is the the main place to spend time in the home, it often becomes cluttered with excess items and big bulky furniture. That's exactly why glass is the perfect element to introduce into a living room design. Glass brightens up a space and often opens up a room, giving it the appearance of added square footage.
Many people opt for glass furniture in their living rooms to open up the space. While you certainly wouldn't want to sit on a glass sofa, the addition of glass side tables or a custom glass tabletop for your coffee table can give your living room the face-lift it deserves. By adding glass furniture, you can make your living room feel much larger and much less cluttered and cramped. Glass furniture gives you the functionality of regular furniture while allowing more light to travel throughout the room, making the space feel brighter and larger as a whole.
Many people have a favorite sculpture or family photo that they have on display in their living room. For that reason, you may want to opt for a custom glass pedestal on which to place your cherished item. A custom glass pedestal will ensure that your work of art is the center of attention in your living room. If you have a collection of items, consider installing mirrors into the back of your bookshelves to enhance visibility and increase the amount of light in your living room. Plus, these glass accents can be customized even further to seamlessly integrate into your existing room design. You can choose from a variety of textured options and even antique glass finishes.
Bathroom
When thinking about spicing up your bathroom space with glass, the first thing that comes to mind is the bathroom mirror. If you've got a small bathroom space with a regular, hanging mirror on the wall, you may want to consider a custom, full-wall or wrap-around mirror. These larger mirrors help open up a cramped room while adding a modern, clean feel to the space.
These days, more and more people are opting for countertop glass sink bowls. These elegant and functional glass pieces are eye-catching and are sure to wow any guest who visits your home. For many, these are great if you're considering a full bathroom renovation, but for a simple redesign or design refresh, you may want to opt for a more simple option. You can also transform your shower enclosure with elegant glass doors or a partition. Installing these will ensure that light reaches every corner of your bathroom.
One of the easiest ways to brighten up your bathroom space is by adding glass accents. If your bathroom is cluttered with self-care and hygiene products, you may want to consider organizational glass options. Glass shelves are an elegant addition to any bathroom and can help free up valuable counter space. To enhance the look even further, you can store your bath products in glass jars or containers and place them on the shelves to create an open, clean feeling in your bathroom. Just a little bit of work here can go an incredibly long way in the look and feel of your bathroom space.
Foyer
One of the most important spaces within your home is the front entrance. It's often the first space guests experience when they enter your home and it makes the first impression. Here, many people opt for glass options to give their home an elegant, updated feel. Try placing a large mirror directly across from the front door so when guests enter, they are surrounded by light from all directions.
Oftentimes, the foyer is also where the staircase is located. Here, you can opt for a more edgy and stylish glass handrail option. The design options with a custom glass handrail are endless. From simple, clear glass to ornate, colored or patterned glass, you can choose the exact type of caste glass that you need to elevate your design. These custom glass options are great for reflecting light throughout a space and can help open up your foyer by adding views of the second floor.
Bedroom
One of the easiest and best ways to update your bedroom design with glass is with glass accent pieces. Installing mirrors on the walls of your bedroom will not only be functional as you get ready to start your day, but will also invite more light into the space and cause the space to feel more tidy. You can also opt for custom glass or mirrored closet doors to really elevate your bedroom design and brighten up the space.
When it comes to glass, the design opportunities are truly endless. Whether you're considering a full renovation or a simple redesign or update to a space, glass is just what you need to brighten up a tired space within your home. For all of your custom glass needs, contact the professionals at More Than Glass. We are available by phone at (804) 746-3086 or online at www.morethanglass.com.
TESTIMONIALS
See what our clients are saying about our products and services.
Professional, responsive, timely, precise and just overall impressive
After an extensive search to have installed mirrors in our gym in the Northern Neck area for a glass company we found More Than Glass. From the time I introduced myself to the final installation, their team of experts were professional, responsive, timely, precise and just overall impressive. I'm quite picky about who I hire for expert services and I would 200% recommend More than Glass for your glass and mirror requirements. We will clearly use them again for any future needs.
- Craig A.
I was more than pleased
I was more than pleased when I contacted your company to help with a shattered sliding glass door in the sun room. I contacted your team via internet form in the morning. I received a call that afternoon and your people came out to give me a quote the next day. The following day, he came to do the repair. Thanks for your teams reliability, efficiency, and expertise!
- Nicole
I Refer More Than Glass
I bought a large piece of glass (4'x9') to cover our kitchen table. They offered options for the edge and corners and had my glass ready in a couple of days. I picked it up and they helped me load it in my vehicle. Whenever someone asks where we got the glass, I refer them to More Than Glass. Very happy with the product and service.
- Roger L.