Antique Mirrors Are in Style Now: Here's How People Are Using Them
As custom glass professionals, we're always in search of the next new trend in custom glass. We're happy to say, we've found it. Antique mirrors are the next big thing. They can be used in virtually any space and add an element of elegance, flair, and style to fit any design taste. The opportunities available with antique mirrors are truly endless. Here are just a few ways that More Than Glass is helping our clients utilize antique mirrors in their homes.
Mirrored Walls
A mirrored accent wall is the best way to truly open up space in a room. Just look at how the mirror literally doubles the size of the space by reflecting the room and the surrounding rooms of the home. Plus, it offers a fantastic way to show off the artwork and other design pieces within the space without crowding the space with more artwork.
The antique detail within this mirror is used to make this formal dining room truly stand out with a timeless and classic feel. Many homeowners feel that adding a mirrored accent wall will make their space feel modern and clean. This serves as a perfect example that with the right texture and finish, a mirrored wall can provide the right look and feel to match just about any design taste.
Kitchen Backsplash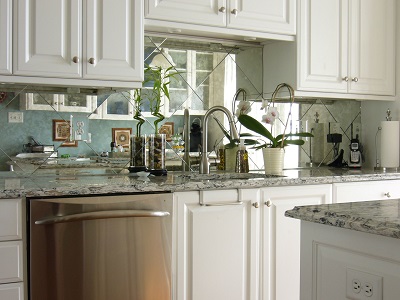 The kitchen is one place that we're seeing the highest use of antique mirrors. As a backsplash, these mirrors can be cut into a variety of patterns to add a fantastic, brightening textural pattern to your kitchen design. They're also great for use as a kitchen backsplash because, unlike many other mirrors, they do not show smudges or streaks as easily as other mirrors do. The cloudy, antique texture within these mirrors helps mask some of your everyday kitchen stains.
Antique Wall Mirrors
A custom-framed antique mirror is also a great statement piece by itself. Finding the perfect antique mirror at auction or at an antique shop can be frustrating and difficult. At More Than Glass, we make sure designing your own is easy and painless. A framed antique mirror adds an element of class and sophistication to any space. We've seen clients use them in stairways, entryways and dining rooms. If you have a formal living room, there's nothing more elegant than an antique mirror atop the mantlepiece. These sophisticated statement pieces add light to a room and make it feel more open.
Custom Pedestal
As always, our favorite projects are the ones that are truly out-of-the-box. A custom creation is the best way to obtain the glass piece of your dreams while ensuring it is the right look, feel and size for your space. Here, our team worked alongside a client to create this custom glass pedestal. Imagine your favorite sculpture or flower bouquet sitting atop a custom glass pedestal in your foyer. The pedestal is a piece of art itself, combining the elegance of an antique mirror with cutting-edge, modern design to create a true statement piece for the enjoyment of all of your guests.
As you can see, antique mirrors can blend seamlessly into any space and add a beautiful, elegant touch that fits almost any design taste. Contact More Than Glass to find the right custom mirror option for your needs. Our team of seasoned professionals is here to help you find and install the best glass products to fit your personal style. Whether you need a modern or antique look, a custom mirror can brighten up any space and add a beautiful design element to complement any style. More Than Glass is available by phone at (804) 746-3086 or online at www.morethanglass.com.