Glass Islands for a Contemporary Kitchen
A home with a kitchen island is a dream, right? Who doesn't love the beautiful visual, the extra counter space, and the dining capabilities of a kitchen island? There are a number of different looks and designs you can go for when creating the perfect kitchen space, but glass is a timeless and popular material to use for a kitchen island. Incredibly customizable, glass brings shine, light, and space to a room. Here are the benefits of glass kitchen islands, and a few ideas on how to make this look work in your kitchen.
Using Glass to Top Your Kitchen Island
Glass has a lot of benefits. You can choose a variety of different woods, colors, and themes to go with for the rest of your island. The glass that goes on top can be shaped to fit your ideas, or etched, carved, or otherwise ingrained with a design that matches your kitchen. The biggest benefit of adding a large piece of glass to your island is that it immediately draws your eyes and becomes a focal point. You and your guests will see that beautiful floating kitchen island every time you walk past and enjoy it.
Glass is also reflective, so when sunlight hits the top of the kitchen island, it will shimmer and shine, making the entire room brighter. It's a great way to get more sunlight if your kitchen doesn't have many windows. The reflectiveness and ability to attract light also makes a room look more spacious.
Finally, the glass used in homes is tough and durable. It's treated with a heating process that makes the glass difficult to break, so it's safe around even the most rambunctious kids. Glass can also be used on top of other surfaces, like wood, granite, or marble, where it acts as a protective layer. Glass is easier to clean than other materials.
Your kitchen island can be the centerpiece of your kitchen and is practical as well as beautiful. You can use different wood or colors to achieve a certain look. Whether you like contemporary minimalist kitchens or fun rustic wooden cabinets everywhere, you can use the island for seating, dining, and storage - so all in all, it's a win-win.
Rustic or Class, Glass Fits In
A lovely, glossy kitchen island can make your home feel complete. Here are some ideas on what you can do with glass islands:
If you like a minimalist, contemporary visual in the kitchen, think white surfaces and glass. You can add in one or two splashes of color on some items to bring the room together. Choose simple light fixtures and place them over your glass island for beautiful lighting.
Or, you can go for a darker, more modern theme in your kitchen. Dark woods for your cabinets and the kitchen island base, and maybe some black or darker wooden surfaces to make the look complete. Use accent colors of red or white for elegance.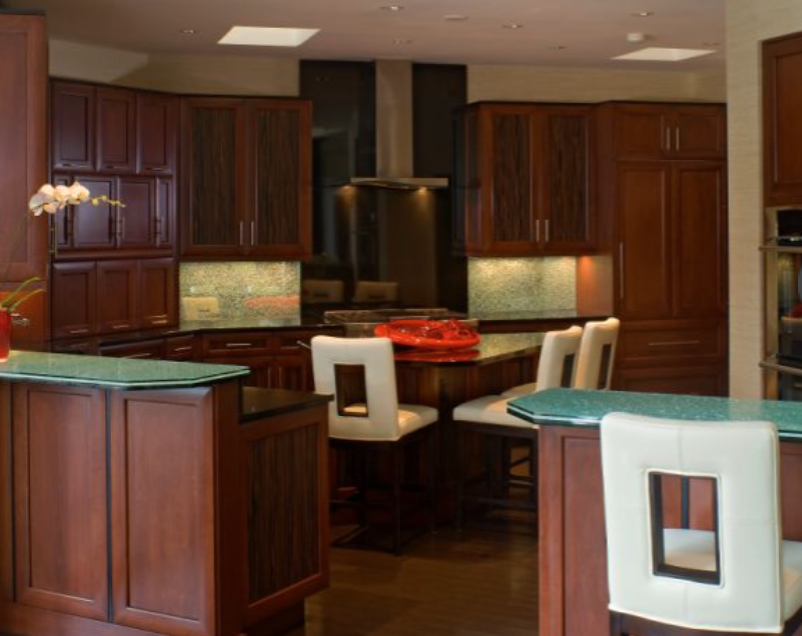 If you want to mix elements of modern design but keep it rustic, you can go for dark wood cabinets with less glass. Instead, use glass on your kitchen island, backsplashes, and other surfaces to keep the room looking sparking and well-lit.
Quality Custom Glass
Serving VA communities for over 30 years, More Than Glass can bring your kitchen design idea to life. Whether you want to go for contemporary, vintage, rustic, or you have your own custom idea, we can create the exact glass pieces you're looking for. Call us at 804-746-3086 and talk to an expert about what you want in your kitchen - we'll be happy to work with you to create the kitchen of your dreams!
TESTIMONIALS
See what our clients are saying about our products and services.
Professional, responsive, timely, precise and just overall impressive
After an extensive search to have installed mirrors in our gym in the Northern Neck area for a glass company we found More Than Glass. From the time I introduced myself to the final installation, their team of experts were professional, responsive, timely, precise and just overall impressive. I'm quite picky about who I hire for expert services and I would 200% recommend More than Glass for your glass and mirror requirements. We will clearly use them again for any future needs.
- Craig A.
I was more than pleased
I was more than pleased when I contacted your company to help with a shattered sliding glass door in the sun room. I contacted your team via internet form in the morning. I received a call that afternoon and your people came out to give me a quote the next day. The following day, he came to do the repair. Thanks for your teams reliability, efficiency, and expertise!
- Nicole
I Refer More Than Glass
I bought a large piece of glass (4'x9') to cover our kitchen table. They offered options for the edge and corners and had my glass ready in a couple of days. I picked it up and they helped me load it in my vehicle. Whenever someone asks where we got the glass, I refer them to More Than Glass. Very happy with the product and service.
- Roger L.