Benefits of glass tabletops
There are many advantages to having a custom glass tabletop. They add a lustrous depth and character to any room. Yet there are other benefits besides how beautiful and versatile they are. Many practical reasons make them a wonderful choice for homes and offices.
Cleanliness and germs: A major benefit to having a glass top is that it guards against stains, whether it's from food, paint, or makeup. You can quickly wipe off whatever has spilled without worrying if it'll settle in like it most certainly will with a wood top. Glass is also much easier to clean on a daily basis. Wood furniture requires a lot of regular cleaning and polishing, often with an extended drying time. Also, wood tops often need special cleaners specific to the type of wood. A glass tabletop cuts the cleaning time down considerably. Unlike wooden tabletops, a glass tabletop is simple to keep clean and germ-free. It is extremely easy to wipe up any spills. Your glass top will not stain and trap harmful bacteria like other table surfaces. All you need is a clean cloth and a bottle of glass cleaner and to follow some preventative maintenance steps to keep your glass tabletop looking shiny and new.
Design and space: The transparency of glass creates the illusion of space. Even in small rooms, a glass table will open up space and make the room feel less cluttered. A glass table allows light to pass through as well as providing an unobstructed view of the rest of the room. Overall it can help the entire flow of a room to make it feel more fluid.
Mood and appearance: Due to its adaptability a custom glass tabletop is a wonderful tool to help create any mood or enhance an existing theme in your home. A glass tabletop looks great in a modern home, but it is equally suitable for a room with more traditional decor. You don't even need to change your style. Custom glass tops can be made for your existing wood table to add an element of protection and a modern feel. This can also help with keeping your dining area germ-free, but the real advantage is glass will greatly benefit in keeping your wood surface free of scratches and stains. Glass tops will keep your dining table, an antique or any other existing table looking like new. Furniture is a costly investment; glass tops protect and look beautiful.
Proper care of glass tabletops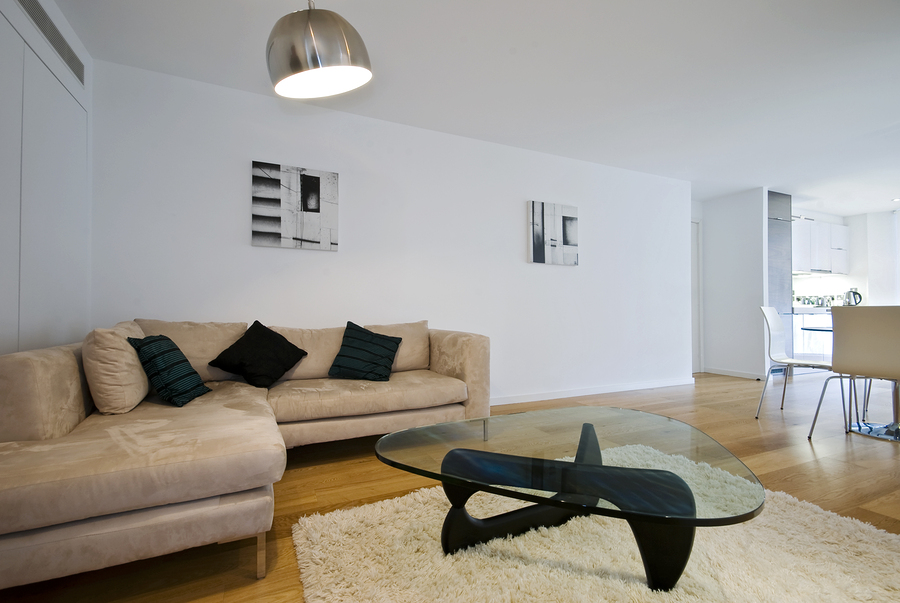 Glass does take some preventative measures to keep it from being scratched. To prevent scratches from forming when cleaning stains or spills that have dried, always use a glass cleaner or soapy water to moisten the stain first when removing it. It's important that you avoid scrubbing your glass top.
Prevention is the key. Therefore, it's best to never keep items directly on the glass. Encourage your family to not leave books, toys, etc., on the glass. Since it may be impossible to keep everything off the glass that can potentially scratch it, use a coaster or placemat in order to have a buffer between the items and the glass. Avoid placing hot plates, bowls, or cooking utensils directly on your glass tabletop without first placing a pad under them.
Adding a custom cut glass top to an existing piece of furniture can immediately enhance the look and feel of a room. Whatever type of table you may currently have, whether it's a rectangular dining table, a circular end table, or a workspace desktop you're sure to find what you're looking for at More Than Glass, We're here to fulfill all of your glass needs and help you choose the best option for your home or office space.
TESTIMONIALS
See what our clients are saying about our products and services.
Professional, responsive, timely, precise and just overall impressive
After an extensive search to have installed mirrors in our gym in the Northern Neck area for a glass company we found More Than Glass. From the time I introduced myself to the final installation, their team of experts were professional, responsive, timely, precise and just overall impressive. I'm quite picky about who I hire for expert services and I would 200% recommend More than Glass for your glass and mirror requirements. We will clearly use them again for any future needs.
- Craig A.
I was more than pleased
I was more than pleased when I contacted your company to help with a shattered sliding glass door in the sun room. I contacted your team via internet form in the morning. I received a call that afternoon and your people came out to give me a quote the next day. The following day, he came to do the repair. Thanks for your teams reliability, efficiency, and expertise!
- Nicole
I Refer More Than Glass
I bought a large piece of glass (4'x9') to cover our kitchen table. They offered options for the edge and corners and had my glass ready in a couple of days. I picked it up and they helped me load it in my vehicle. Whenever someone asks where we got the glass, I refer them to More Than Glass. Very happy with the product and service.
- Roger L.