3 Examples of Gorgeous Frosted Glass Backsplash in the Kitchen
Having custom-made frosted glass for your kitchen is an excellent way to spruce up your home and give your kitchen a brand new look. Glass can make a space look bigger, cleaner, and more modern. This particular type of glass is created to be incredibly sturdy, so it won't break - even if you have energetic kids in the home. Additionally, frosted glass in kitchens is often installed to protect walls and surfaces from mold and mildew, with the glass making it easy to clean. Check out these 3 examples of gorgeous frosted glass backsplash in the kitchen and get inspired! Take these examples and go wild! If you've got an idea and you do not see it anywhere, contact your local glass shop, like More Than Glass, to get a custom look created just for you.
Kitchen Tile Backsplash Ideas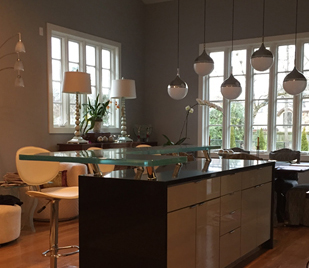 Frosted glass is a final decor point in your kitchen renovation. It gives the room class and personality. Of course, glass is more than just beautiful - it's functional and keeps water from ruining your walls. The right design can improve the feel of your space. There are countless styles to choose from, but whatever you decide, you should be happy with the design. Frosted glass for the kitchen is created to last for a long time, so make sure it's a design you love.
Something else to keep in mind is that your walls must match the rest of your kitchen. The counters, tables, and floors should all work harmoniously to create the atmosphere you're looking for. Materials also matter. These days, thanks to advances in technology, you can get pretty much any desired effect you want on a piece of glass. Check with your local glass shop to see if they can create the design you have in mind.
Kitchen Color Scheme Backsplash
If you like simplicity, try creating a color scheme with a frosted glass backsplash in your kitchen. You can either match the rest of your decor, or go for earth tones, but this hot trend is a great way to create a timeless look. This look is comprised of different shades of tile within a set color arrangement. So, if you like earthy, green tones and want to give your kitchen that natural look, the company will design tiles in shades of green, cream, tan, and brown to create a seamless blend.
Black, Brown and Gray Contemporary
There are a few ways to utilize these colors to look good in your kitchen. You can create a pattern, which gives the room a focal point. Or, you can have black, white, and grey glass tiles creating running horizontally throughout the back wall, giving the room a fresh and energetic look. Or, you can choose black and brown glass tiles and give them a grouted, almost wood-like look, turning your kitchen into a fresh, sleek, and almost urban vibe. To maximize space in your kitchen, you can go for all black glass tiles as backsplash, with the juxtaposition of white cabinets and tables.
Classic Subway Tile is Back in Style
It's simple and elegant, which is why this trend has been around for a long time. Subway tile features shiny white tiles with some darker grout in between them. This look is great for anyone on a budget because it's so simple, but looks expensive and tasteful. Having large subway tiles in various colors is also becoming a popular way to decorate the kitchen. For example, instead of the usual 3x6 subway tiles, you can make them bigger, and choose a color scheme like green or blue, which can make the whole space look larger. Specifically, many are getting their kitchens done with 4x8 or even 4x12-sized subway tiles.
Call More Than Glass
If you've got a specific look in mind, or you simply need ideas for your kitchen remodel, call us at 804-746-3086 for a consultation. More Than Glass has proudly served the Richmond, VA area for more than 30 years, always staying on top of the latest designs and trends in the industry. We only use the highest-quality materials for our clients. Speak to an expert on glass backsplashes today, and create the look you've always wanted in your home.
TESTIMONIALS
See what our clients are saying about our products and services.
I was more than pleased
I was more than pleased when I contacted your company to help with a shattered sliding glass door in the sun room. I contacted your team via internet form in the morning. I received a call that afternoon and your people came out to give me a quote the next day. The following day, he came to do the repair. Thanks for your teams reliability, efficiency, and expertise!
- Nicole
I Refer More Than Glass
I bought a large piece of glass (4'x9') to cover our kitchen table. They offered options for the edge and corners and had my glass ready in a couple of days. I picked it up and they helped me load it in my vehicle. Whenever someone asks where we got the glass, I refer them to More Than Glass. Very happy with the product and service.
- Roger L.